Xiaomi Air 2 Pro True Wireless Bluetooth Headset Active Noise Cancellation (ANC)
Original Xiaomi Air 2 Pro True Wireless Bluetooth Headset Active Noise Cancellation (ANC)
Active Noise Cancellation (ANC) - In the face of common noises, we use feedforward and feedback dual microphones to finally provide a hybrid noise reduction of up to 35dB. In the face of 1000-3000Hz high-frequency noises, such as crying, decoration, and roaring, the unique large cavity can also allow You are quiet.
The three microphones work at the same time, and the call is clear.
Luca Bignardi, a world-class musician who won 4 Grammy Awards, personally tuned it for its independent unit. While taking into account the low distortion of the whole frequency band, it deeply combines the characteristics of human hearing and preferences to bring a natural balance and no lack of real and delicate listening experience.
12mm large dynami
Solid expressive power comes from here. The mellow and long-distance sound comes from the high-rigidity LCP liquid crystal composite diaphragm and the 12mm large-size moving coil. Not only that, there are also open three-frequency, sensitive transient response, restore more details for you, Even the singer's breath is still in my ears.
Just 10 minutes
Both the headset and the charging box support fast charging, charging for 10 minutes, listen to the song for 90 minutes. At the same time, the charging box supports Qi without Line charging standard, compatible with a variety of devices to charge, anytime Super convenient to charge.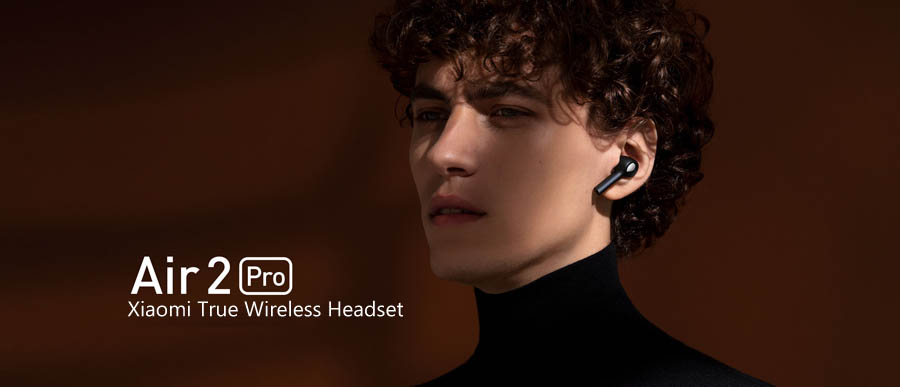 Model 

Brand: Xiaomi Air 2 Pro
 
Audio Technology
Active Noise Control (ANC)



TYPE
Wireless Bluetooth eardphones
SPEC

 

Product model TWSEJ09WM

Product net weight 60g

Charging port Type-C

Speaker impedance 32Ω

Headphone input parameters 5V0.11A

Charging box input parameters 5V1A

Charging box output parameters 5V0.25A

Bluetooth 5.0

Bluetooth protocol BLE/HFP/A2DP/AVRCP

Working distance 10m (barrier-free open environment)

Charging time 1h (using wired charging)

The headset has a single battery life of about 7h (active noise reduction is off)

With the charging box, the overall battery life is about 28h

Executive standard Q/WMSX002-2016

In The Box 

earphone × 1
Charging case × 1
Type-C charging cable × 1
Earmuffs × 4
Instruction Manual × 1