Return to Previous Page
Details
Highlights
Xiaomi Amazfit Pace 2 Stratos English ROM Sports Smartwatch 2 50M Waterproof GPS Heart Rate
Amazfit Pace 2 English ROM Sports Smart Watch With a built-in GPS, Waterproof (50-meter WR) Outdoor Smartwatch, heart rate monitor, and a beautiful touchscreen display, is the Amazfit PACE 2 the perfect fitness tracker and smartwatch.
1.2 GHz dual-core processor,512MB RAM, 4GB ROM
1.34 inch capacitive touch screen high quality. Resolution 320 X 300 display, The dial is always bright without black screen. Uses reflective display technology, the dial brightness will auto adjust according to the environment, gives you better and more clear eye experience.
- Amazfit Stratos Sportwatch 2 with a hand-polished ceramic frame
- Multisport modes: running, walking, outdoor riding, swimming pool, open water swimming, indoor running, indoor riding, elliptical machines, mountaineering, trail running, Triathlon.
- Best waterproof fitness trackers for swimming in the pool and open water swimming tracking mode
- Added the maximum oxygen uptake, VO2max, TE, TD, Recovery Time, the next sports recommendation, real-time sports guidance, the current state of the physical state of the mass of authoritative sports data!
- Amazfit Sport watch 2 Support external heart rate strap
- Sensor : PPG heart rate sensor , Triaxial acceleration sensor, Gyro, Geomagnetic sensor, Barometric pressure sensor 4, Ambient light sensor
- Advanced Firstbeat analytics give you the insight you need to make the best health, fitness, and performance decisions possible.
- Battery Life 5 days (running 30 minutes a day, pushing 200 messages) 35 hours (full open GPS, full heart rate monitoring)
- Track running distance, time, pace, heart rate, calories, speed, cadence, pace, altitude, and elevation gain/loss.
- Bluetooth Music , Phone-free music: connect wirelessly to Bluetooth earbuds and enjoy music and media with the Internal storage for unencumbered phone-free running.
- GPS + GLONASS Track Receive GPS signal, record your trail, distance, altitude, speed, and other sports data, so that analyze and improve sports level for you
- Notifications receive notifications for incoming calls, messages, emails and other apps.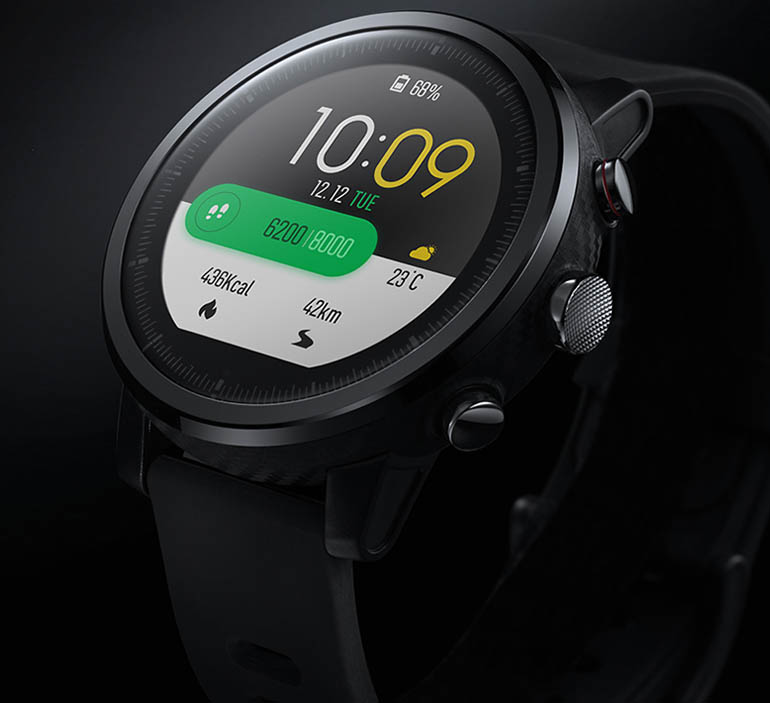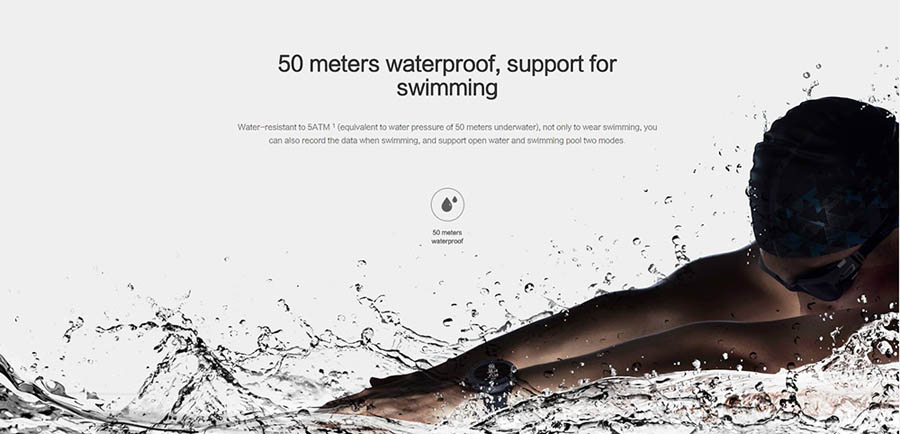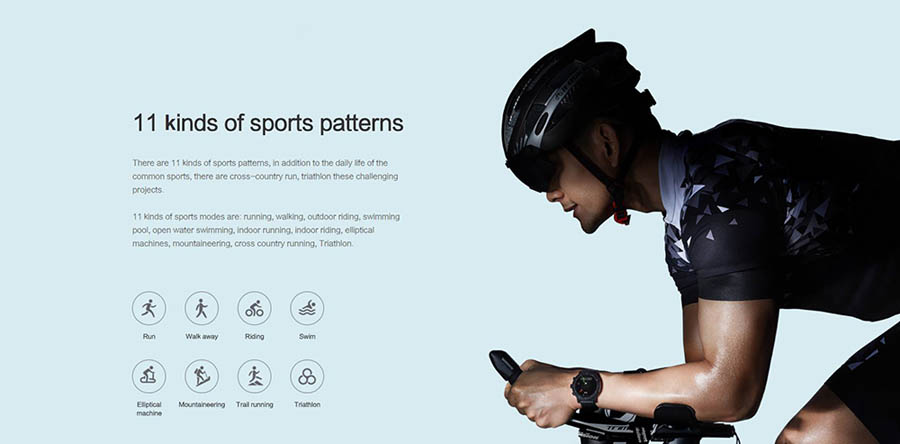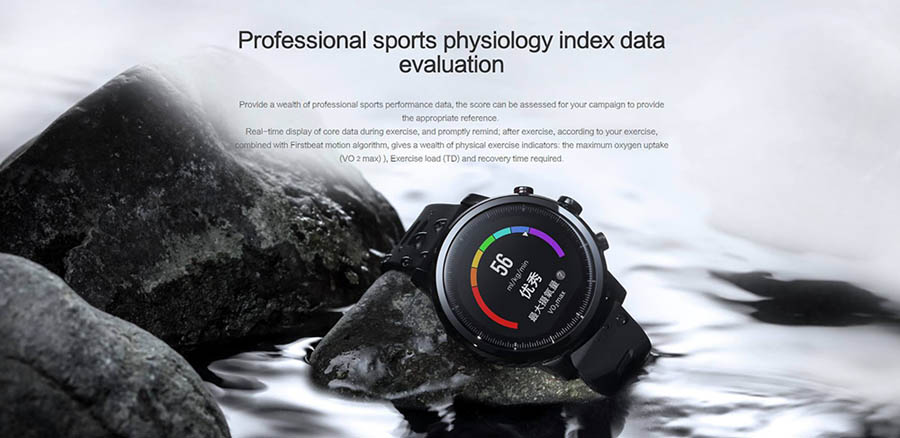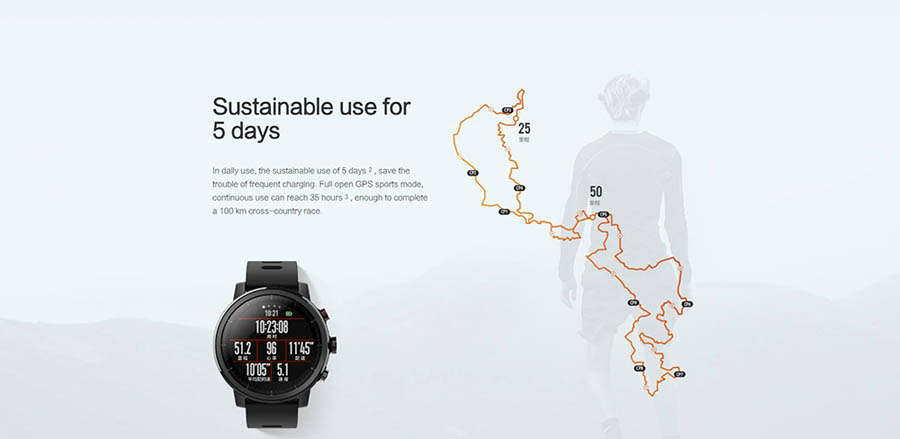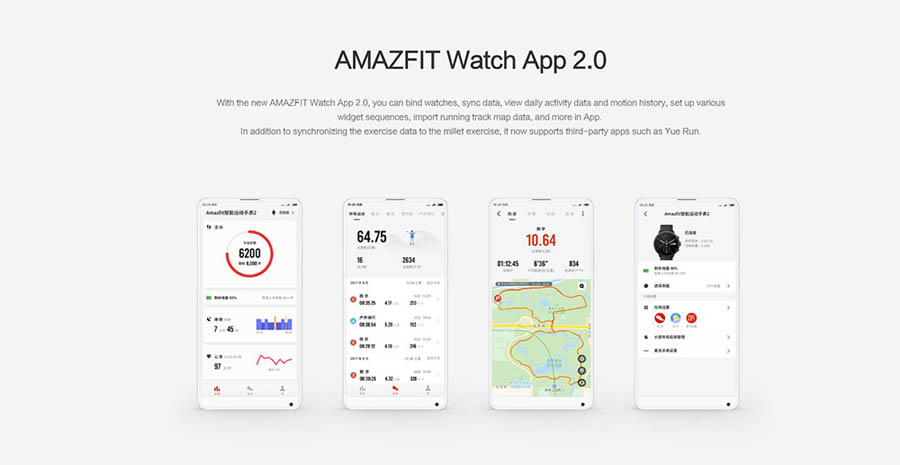 General

Brand: Xiaomi Huami
Model : Huami AMAZFIT Pace 2 Sports Smartwatch English version
Waterproof: Yes

IP rating: 50 meters waterproof

Functions

Waterproof (50-meter WR)

Bluetooth calling: Phone call reminder
Messaging: Message reminder
Health tracker: Heart rate monitor,Pedometer
Remote control function: Remote music
Alert type: Vibration
Other Function: Alarm,GPS,Weather forecast,WiFi , Call reminder, Info push, GPS+Glonass, Bluetooth music, Weather, Time, Alipay quick payment.

Sensor: PPG heart rate sensor, acceleration sensor, gyroscope, geomagnetic sensor, light sensor

Screen

Operating mode: Touch Screen

Wireless
Bluetooth : Support
Battery

280mAh lithium polymer

Weight and Size
Strap width 22mm
Compacibility

Compatible OS: Android
Compatability: Android 4.4 / iOS 9.0 and above system
Available Color: Black

Package Contents
1 x Xiaomi AMAZFIT Pace 2 Sports Smart Watch, 1 x USB Charging Cable,



Unboxing & Reviews :
Amazfit Smartwatch 2 ( Pace 2 Stratos ) Unboxing
http://blog.nextbuying.com/amazfit-smartwatch-2-pace-2-stratos-unboxing.html
FAQ :
Q: This English language or version?
A: Yes, English language ROM version amazfit Stratos watch 2 in stock.
---
Q: Would like to know in how many days I will receive this product after buying it.
A: Amazfit smartwatch 2 and watch 2s In stock now .
---
Q: This the original watch 2 from xiaomi Huami Amazfit ?
A: Yes, this is original amazfit watch 2 from xiaomi huami amazfit.
---
Q: What strap ?
A: This is Silicone Strap.
---
Q: What about Xiaomi Huami AMAZFIT Stratos Sports Smartwatch 2 and Smartwatch 2s
A: Amazfit Smartwatch 2s add 2.5D Sapphire Screen and Leather Strap, check this https://www.nextbuying.com/xiaomi-amazfit-pace-2s-stratos-sports-smartwatch-2s-p000603.html
Customer Reviews
Review by

Tazarian

A great watch with loads of features which met my expectations. Had been looking for an analogue style sports watch. This has interchangeable faces which means your preferred style is easily catered for. (Posted on 3/6/19)
Write Your Own Review
Customer Reviews
Review by

Tazarian

A great watch with loads of features which met my expectations. Had been looking for an analogue style sports watch. This has interchangeable faces which means your preferred style is easily catered for. (Posted on 3/6/19)
Write Your Own Review