Return to Previous Page
Details

Features
Xiaomi Xiaoyi Smart Night Version Camera Xiaoyi stands for Little Ant. Observe, Listen, Speak. Remote observe with mobile phone.
720p HD resolution | 111° wide-angle, 4x zoom | Two-way voice communication.

Your Home in your Mobile Phone View it 24 Hours Xiaoyi Smart Camera can be placed in anywhere you want. With tablet or smartphone, you can know your home situation in anytime, anywhere. You can perform two-way voice communication even if you are not at home. You can even join in birthday party at home in long distance, instant capture the joy and wonderful moments.

Smart security mode on automatically when away from home Check your home situation with your phone in anytime. Worry no more for your house door, window, or water-tap. When you leave the house, motion detection function will start trigger. If threat detected when no one at home, recording will start immediately and timely inform you about the alarm.
Window Check During Raining
Record trigger when threat detected
Phone alert in unusual circumstances

Observe, take picture or record video in anytime
Your child slowly grows up when you were busy with work? With Xiaoyi Smart Camera, you won't ever miss any moment of your child growth. Once you turn on your phone, your child is right beside with you instantly.
Capture child wonderful moment
Read bedtime story for your child
Look back on your child growth stages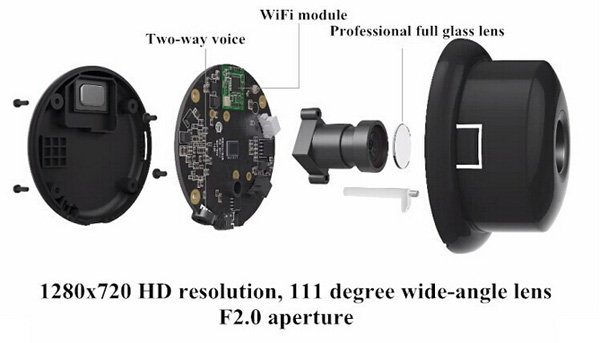 Observe every details of the screen with 4x zoom
Often greet by your lovely pet with "tragic" scene made by him after came back from work? Now you can use your phone to observe your pet with 4x zoom. Is he sleeping on the sofa or chewing your shoes at the corner? With two-way voice communication, you can stop the destruction by shouting on him.
Watch pet with mobile phone
Search pet hiding spot
Stop pet from trouble
Two-way voice feature allows "live" happiness on the spot
Spend time with her big day using Xiaoyi Smart Camera. 111 ° wide-angle lens brings us an immersive sense through screen. Press and hold the call button to sing her a birthday song. Distance is no longer a problem.
Immersive Visual Sense
Let her hear your love
Record home movie
3 Simple Steps to Complete Installation in 1 Minute
Without any complex or lengthy wiring set, you can automatically connect your smart camera by turning on its power button and downloading Xiaomi Smart Home App.
*Can also be supported with "Xiaoyi Smart Camera" or "Mi Router" app
Connect to power source.
Download mobile app.
Click to connect.
1280x720 HD resolution, 111° wide-angle lens f/2 aperture, all-glass lens, bring you a clear and bright picture, Xiaoyi Smart Camera's all-glass lens has better optical properties than the ordinary Resin lens used by average camera, giving you clearer and finer pictures. A 1280x720 HD resolution will have insignificant small details in picture and also good quality videos. 111° wide-angle lens can cover almost every corner of your room.
Specifications
Model
Xiaoyi Smart Camera Night Version

Lens Material

Glass

Camera

Angle

Horizontal viewing angle : 92.7°
Vertical viewing angle : 48.7°
Diagonal Angle: 111.2°

Body Size

Diameter of 54mm

Video Frame Rate

20fps(1280 × 720)

1280 x 720 IPS

Wireless
IEEE802.11b, 802.11g, 802.11n Draft
Storage
Support Micro SD card up to 32GB and Xiaomi Router
Cloud Video
Yes, support local cloud (more secure)
Talkback , Adaptive Stream
Support
Support Agreements

IPV4,UDP,TCP, HTTP,RTP/RTSP,DHCP,P2P