Return to Previous Page
Details
OnePlus 7 Pro Online Nextbuying and In Stock New OnePlus 7 Pro >>
Multiple colour Oneplus 7 Pro and Accessories check out.
Discount Information: Coupon Code " next5off " Price Save $5 Dollars
OnePlus 6 Phablet Official Global ROM Oxygen OS with Google Service Gapps ( Play Store, Gmail, Maps etc.. ) Support OTA Update.
Features
OnePlus 6 Smartphones SOC Qualcomm® Snapdragon 845 (Octa-core, 10nm, up to 2.8 GHz), within AIE, GPU Adreno 630, The industry-leading processor Snapdragon™ 845 powers through demanding apps and games – and it's incredibly power efficient, would be overwhelmed, together with 6GB /8GB RAM LPDDR4X and Storage 64GB 128GB UFS 2.1 2-LANE, More RAM ; day to day tasks are snappier than ever, and battery life is better.
Smoothly-rounded corners and gently curved glass, the OnePlus 6 impresses from every angle. Glass used Corning Gorilla Glass 5 on both the front and back for an incredibly resilient and malleable build.
Dual Rear camera Dual LED Flash: Main Sony IMX519 16.0MP + Secondary Sony IMX 376K 20.0MP; Front Camera: Sony IMX 371,16.0MP technology let you focus on your subject, yet powerful effect. OIS physically compensates for shakes and jitters to stabilize your photos. This means clearer and more stable shots.
Rear Camera - Main
Sensor: Sony IMX 519
Megapixels: 16
Pixel Size: 1.22 µm
OIS: Yes
EIS: Yes
Autofocus: DCAF
Aperture: f/1.7
Rear Camera - Secondary
Sensor: Sony IMX 376K
Megapixels: 20
Pixel Size: 1.0 µm
Autofocus: PDAF
Aperture: f/1.7
Front Camera
Sensor: Sony IMX 371
Megapixels: 16
Pixel Size: 1.0 µm
EIS: Yes
Autofocus: Fixed Focus
Aperture: f/2.0
Display Size: 6.28 inches (The corners of the screen are within a standard rectangle. Measured diagonally, the screen size is 6.28 inches in the full rectangle and 6.12 inches accounting for the rounded corners.)
Resolution: 2280 x 1080 pixels
Aspect Ratio: 19:9
Type: Optic AMOLED
Support sRGB, DCI-P3
Cover Glass: 2.5D Corning® Gorilla® Glass 5
Features
Adaptive Mode
Reading Mode
Night Mode
Lift Up Display
Dual SIM Dual Standby ( Dual Nano sim card. Both SIM slots are compatible with 4G, The OnePlus 6 is a true world phone
LTE/LTE-A
DL 4CA/256QAM, UL CA/64QAM, 4x4 MIMO
Supports up to DL CAT16/ UL CAT13 (1Gbps/150 Mbps) depending on carrier support
Bands
FDD LTE: Band 1/2/3/4/5/7/8/12/17/18/19/20/25/26/28/29/66
TDD LTE: Band 34/38/39/40/41
TD-SCDMA: Band 34/39
UMTS(WCDMA): Band 1/2/4/5/8/9/19
CDMA: BC0/BC1
GSM: 850/900/1800/1900 MHz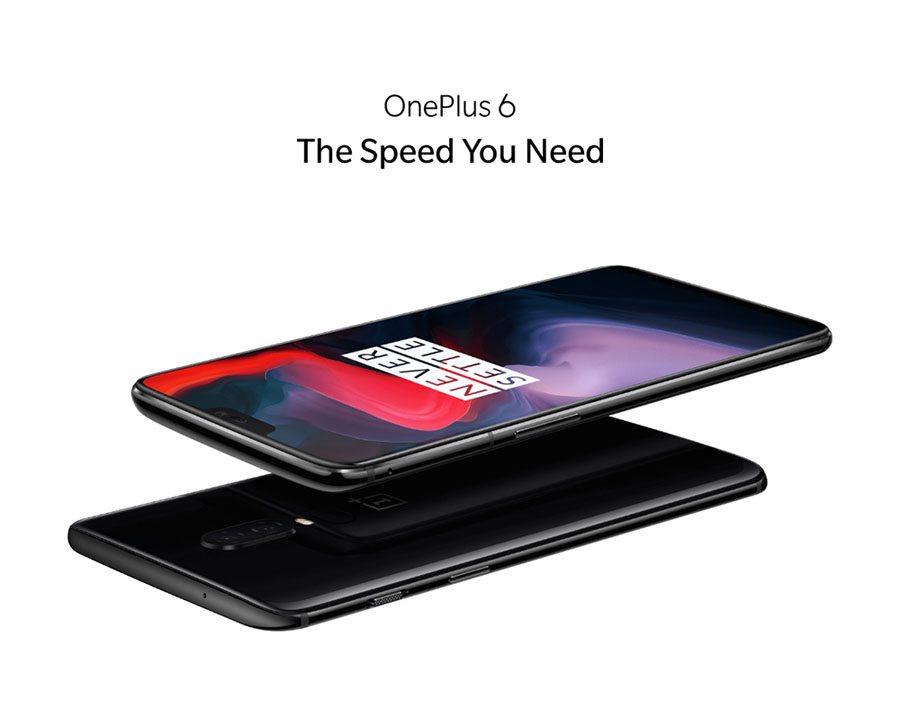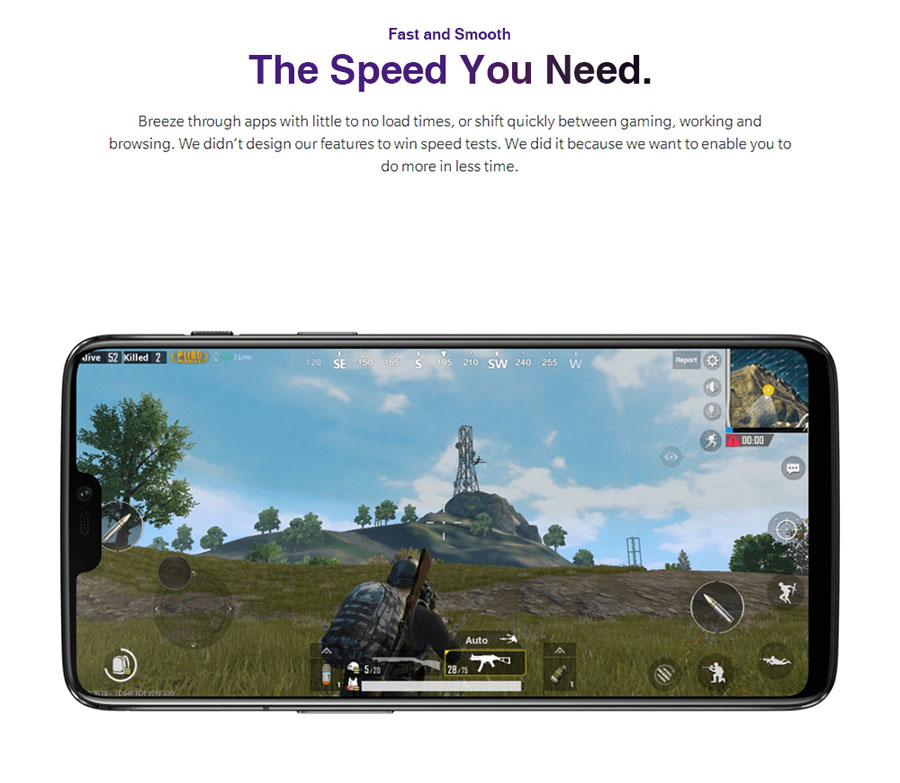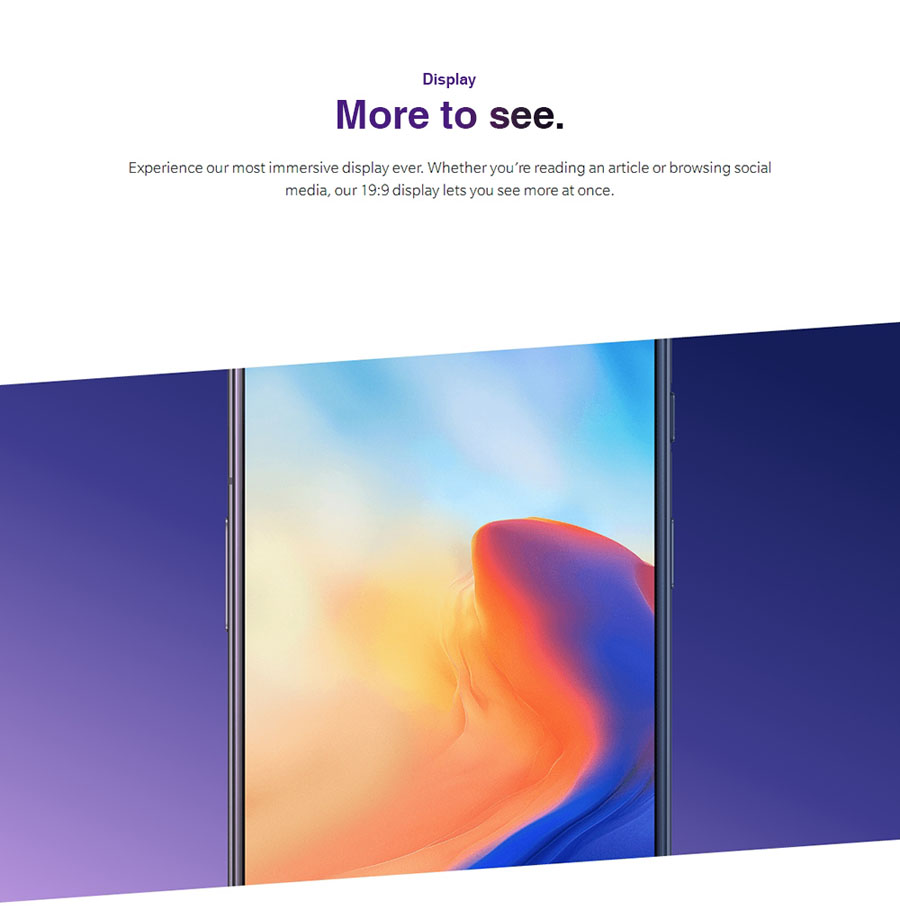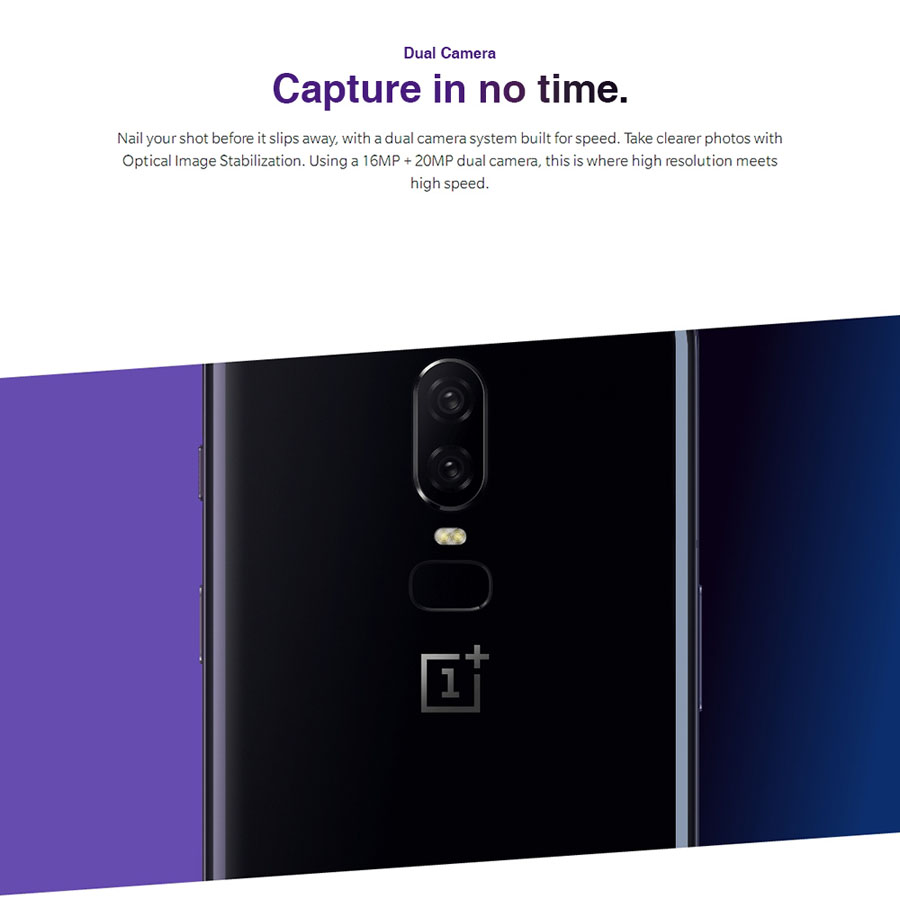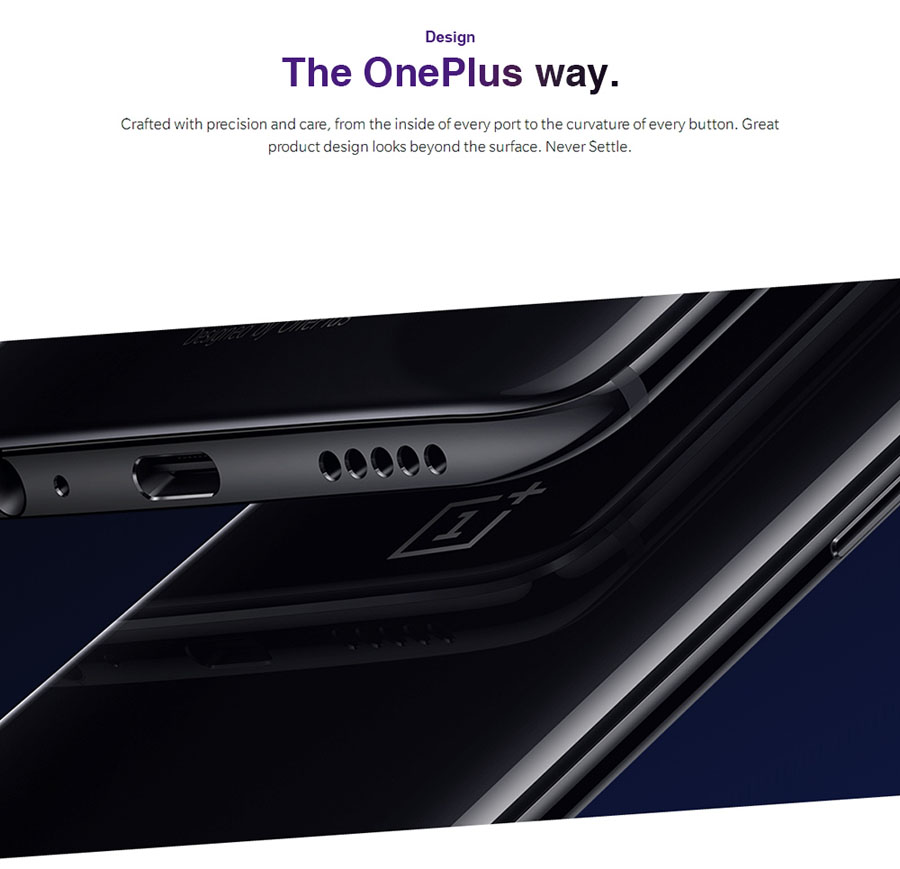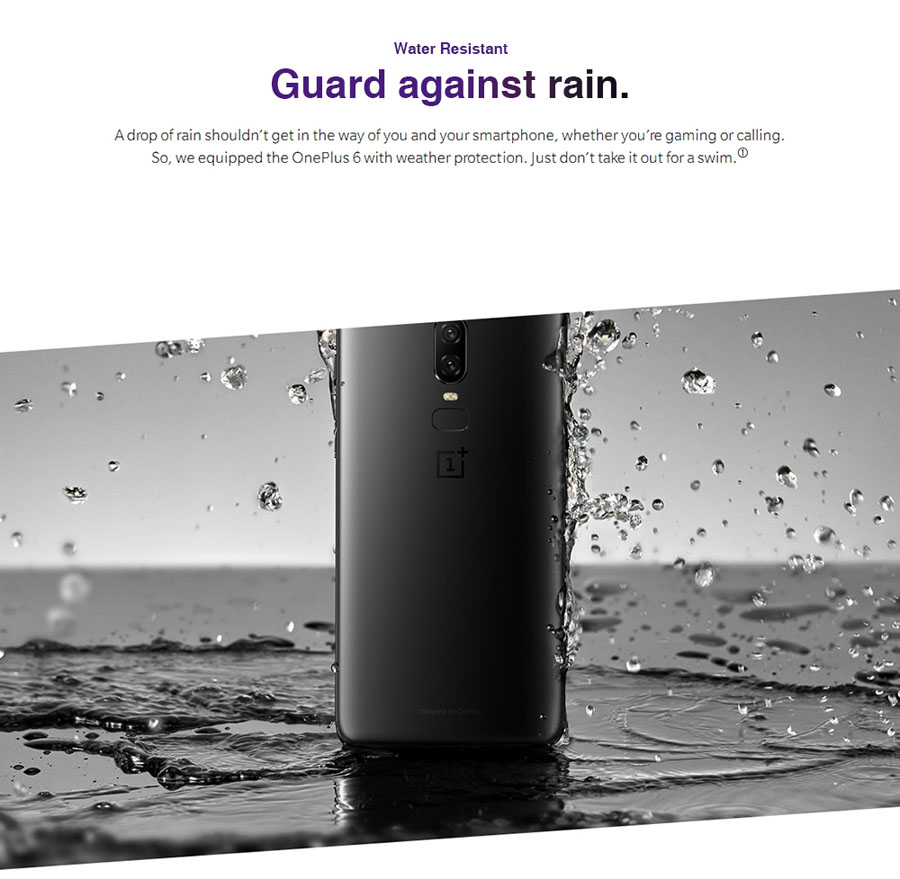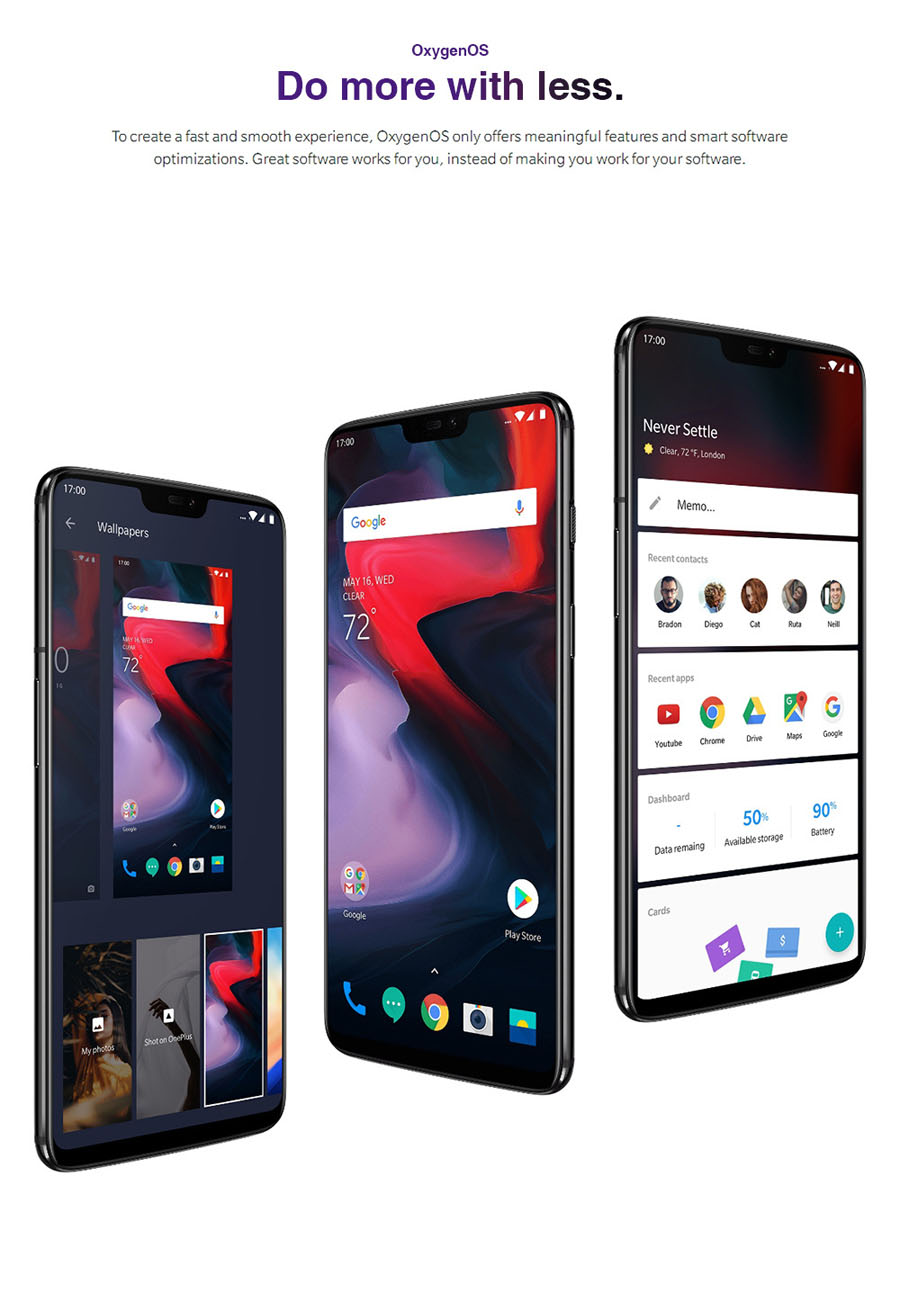 Specifications
Reference

OnePlus 6

Android OS

OxygenOS based on Android™ Oreo with Google Service APP ( Play Store, Gmail, Maps etc )

Architecture
Qualcomm® Snapdragon™ 845 (Octa-core, 10nm up to 2.8GHz)
Core
Octa-Core
CPU
Snapdragon™ 845 GPU Adreno 630
Service Provide
Unlocked
RAM
6/8GB LPDDR4X
Internal Storage
64GB / 128GB / 256GB UFS 2.1 2-LANE
Screen Size
6.28-inchs 2280 x 1080 resolution display with an 19:9 aspect ratio.
Screen
2.5D Corning® Gorilla® Glass 5 Screen
Screen Resolution
2280 x 1080 pixels
Screen Color
16000K Colors
Camera
Dual Rear Camera: Main Sony IMX519 16.0MP + Secondary Sony IMX 376K 20.0MP; Front Camera:Sony IMX 371,16.0MP
NFC
YES
Color

Mirror Black/ Midnight Black/ Silk White

FDD LTE
YES 4G LTE
GPS
YES built in, support GPS, GLONASS, BeiDou, Galileo
Bluetooth
YES built in Bluetooth 5.0, support aptX & aptX HD
Sensor

Fingerprint, Hall, Accelerometer, Gyroscope, Proximity, RGB Ambient Light Sensor, Electronic Compass, Sensor Hub

Language

Bahasa Indonesia, Bahasa Melayu, Catalan, Czech, Danish, German, Estonian, English, Spanish, Filipino, French, Croatian, Italian, Latvin, Lithuanian, Hungarian, Nederlands, Norwegian, Polish, Portuguese, Romanian, Romansh, Slovenian, Slovak, Finnish, Swedish, Vietnamese, Turkish, Greek, Bulgarian, Russian, Serbian, Ukrainian, Armenian, Hebrew, Urdu, Arabic, Persian, Hindi, Bengali, Thai, Burmese, Cambodian, Korean, Japanese, Traditional/Simplified Chinese

Net Weight
177g
Dimensions
155.7x75.4x7.75 mm

WiFi

Yes Wi-Fi 2x2 MIMO, Wi-Fi 802.11 a/b/g/n/ac, 2.4G/5G


Additional Features

4G, WIFI, GPS, Bluetooth,Gesture Sensing,Smart Wake, Ebook, Email,Messaging, wallpapers, calendar, calculator,clock, camera, Google Play Store, tethering & portable hotspot, Touch ID, NFC,fast charge,Type-C, etc




Buttons
On-screen navigational support, power button, volume rocker, Alert Slider
Dash Charge
Dash Charge (5V 4A)


Battery
3,300 mAh (non-removable)



Port

USB 2.0, Type-C, Supports USB Audio Dual nano-SIM slot, 3.5mm audio jack

What in the Box
1x OnePlus 6

1x Screen Protector (pre-applied)
1x Translucent Case (we recommend assembling the protective case from the bottom)
1x OnePlus Fast Charge Type-C Cable
1x OnePlus Fast Charge Power Adapter
1x SIM Tray Ejector
1x Quick Start Guide
1x Safety Information
Unboxing & Reviews :
Oneplus 6 Unboxing on Nextbuying
http://blog.nextbuying.com/oneplus-6-unboxing.html
---
OnePlus 6 - The Speed You Need
---
FAQ :
Q: What in the box, the One Plus 6 Phone come with a AU plug adapter?
A: Yes, the phone come with a free AU plug, ( 1* Oneplus 6 , 1* Dash Type-C Cables, 1* Dash charger, 1* SIM card needle, 1* Quick Start Guide, 1* Warranty Card, 1* AU plug. )
---
Q: Does it come with google play Store?
A: Yes, Nextbuying Oneplus 6 running Global OxygenOS multi-language, default installed Google Play Store , Gmaps, Gmail, etc Gapps..
---
Q: Oneplus 6 in Australia support 4G+ and band 28 700mhz?
A: Yes, Oneplus 6 specifications listed is a true world phone, including support for multi-bands network across the globe, support Australia 4G plus and band 28 700mhz.
---
Q: Comes with an Australian wall charger as well? how long will be the delivery time to Australia?
A: Yes, come with a AU plug adapter, Express shipping DHL 3 -5 work day, Australia Post 8 - 9 work day, Free shipping 10- 15 work day .
Customer Reviews
Review by

Scott

Fantastic Oneplus 6 Phone !!! Had my phone for 1 months and I really like it. It is the red 8gb 128gb model. I've found the One Plus 6 to be a very reliable phone, with a great operating system (Update to Beta with Android P ). It's so easy to use! best camera phone :) (Posted on 9/4/18)

Review by

Rob

Owned Oneplus phones since 2015 the model OP3T, Been to use Oneplus smartphone back since then, Oneplus have enough bandwith to support Australian LTE network and b28 bands. Oneplus 6 ( red color ) being a global version and bought it from Nextbuying. It doesn't disappoint me, fast finger scanning, big 8GB RAM and decent cameras, most importantly it's very value for money. (Posted on 8/13/18)

Review by

Linda

I've got the 6GB 64GB model One Plus 6 and its amazing. The phone is beautifully designed, images are crisp and clear and the camera is amazing. I love the placement of the finger print reader, and face unlock. It's a fast charger (dash adapter) as well, Nextbuying have free AU plug in the box. Would recommend for anyone who is looking for a cheaper alternative to iPhone but still wants a great experience!!! Recommend buying from Nextbuying ! From Queensland Aus ! (Posted on 6/14/18)

Review by

Kaneki Ken

Very good phone. Was delivered in about 2 weeks with free shipping to Brisbane. Trustworthy site (Posted on 6/5/18)

Review by

Leo Chan

My first android phone One plus 6 phone 128GB 8GB version, Fast Snapdragon 845 with 8GB RAM. Good battery life lasts all day even with heavy usage and has fast charging too!!!!!

very like the phone camera captures great photos :D NextBuying fast shipping Perth, WA. (Australia Post). (Posted on 6/3/18)

Review by

Stephanie

Received the phone in the morning!!! Fast shipping DHL... love my new One plus 6 so much! Screen quality and colors are amazing. Fingerprint and face Id are instant, boom. Love the design. Super fast. I have absolutely no complaints. highly recommend buying from Nextbuying ! From Melbourne - Stephanie (Posted on 5/26/18)

Review by

Sam M

Waiting for my OnePlus 6 to arrive in Sydney! (Posted on 5/26/18)

Review by

Jim Mc

Already waiting for mine to arrive :) (Posted on 5/22/18)

Review by

James D

Still have my OP 3T, bought the wife the 5T few months ago from Nextbuying, fast shipping Sydney AUS, and she loves it. Really wanna get the 6 but I really don't have any issues with my phone so :D (Posted on 5/22/18)
Write Your Own Review
Customer Reviews
Review by

Scott

Fantastic Oneplus 6 Phone !!! Had my phone for 1 months and I really like it. It is the red 8gb 128gb model. I've found the One Plus 6 to be a very reliable phone, with a great operating system (Update to Beta with Android P ). It's so easy to use! best camera phone :) (Posted on 9/4/18)

Review by

Rob

Owned Oneplus phones since 2015 the model OP3T, Been to use Oneplus smartphone back since then, Oneplus have enough bandwith to support Australian LTE network and b28 bands. Oneplus 6 ( red color ) being a global version and bought it from Nextbuying. It doesn't disappoint me, fast finger scanning, big 8GB RAM and decent cameras, most importantly it's very value for money. (Posted on 8/13/18)

Review by

Linda

I've got the 6GB 64GB model One Plus 6 and its amazing. The phone is beautifully designed, images are crisp and clear and the camera is amazing. I love the placement of the finger print reader, and face unlock. It's a fast charger (dash adapter) as well, Nextbuying have free AU plug in the box. Would recommend for anyone who is looking for a cheaper alternative to iPhone but still wants a great experience!!! Recommend buying from Nextbuying ! From Queensland Aus ! (Posted on 6/14/18)

Review by

Kaneki Ken

Very good phone. Was delivered in about 2 weeks with free shipping to Brisbane. Trustworthy site (Posted on 6/5/18)

Review by

Leo Chan

My first android phone One plus 6 phone 128GB 8GB version, Fast Snapdragon 845 with 8GB RAM. Good battery life lasts all day even with heavy usage and has fast charging too!!!!!

very like the phone camera captures great photos :D NextBuying fast shipping Perth, WA. (Australia Post). (Posted on 6/3/18)

Review by

Stephanie

Received the phone in the morning!!! Fast shipping DHL... love my new One plus 6 so much! Screen quality and colors are amazing. Fingerprint and face Id are instant, boom. Love the design. Super fast. I have absolutely no complaints. highly recommend buying from Nextbuying ! From Melbourne - Stephanie (Posted on 5/26/18)

Review by

Sam M

Waiting for my OnePlus 6 to arrive in Sydney! (Posted on 5/26/18)

Review by

Jim Mc

Already waiting for mine to arrive :) (Posted on 5/22/18)

Review by

James D

Still have my OP 3T, bought the wife the 5T few months ago from Nextbuying, fast shipping Sydney AUS, and she loves it. Really wanna get the 6 but I really don't have any issues with my phone so :D (Posted on 5/22/18)
Write Your Own Review