Return to Previous Page
Details
Original HUAWEI FreeBuds 2 Pro Wireless Earbuds HWA HD Bluetooth Transmission Protocol Tap Control 20 Hours Playtime
Wirelessly charge the Huawei Freebuds 2 Pro, will connect to smartphones via Bluetooth 5.0 and will allow bitrates of up to 560kbps, making for high-quality audio listening. The headphones will also allow for hands-free phone calls via AI-assisted voice recognition.
Bluetooth 5.0 , Bluetooth protocol A2DP 1.3; hands-free configuration (HFP) 1.6; AVRCP
Support music effective frequency bandwidth 20 Hz – 20,000 Hz
Charging interface Type C USB interface
1. Real wireless binaural stereo headphones, left and right headphones work at the same time;
2. Low power consumption and long battery life;
3. Call noise reduction;
4. Wireless charging (charge box);
5. Open the box for self-discovery and quick pairing;
6. 13mm moving coil unit, half-in-ear headphones;
7. Smart wear detection;
8. Support double-click operation;
9. Dustproof and waterproof
Battery capacity minimum 420mAh
Power input 5V-1A
Talk time: 2.5 hours
Standby time: Life time is about 15 hours
Charging time Full of headphones 1 hour
Pair key:
1.Use it in first time, press it in 2 seconds, charging box will be turned on;
2.When the Headphone is in the charging box, press pair key for 2-10 seconds, the headphone will ready for pairing;
3.When the Headphone t is in the charging box, press pair key over 10 seconds, the headphone will restore to factory settings.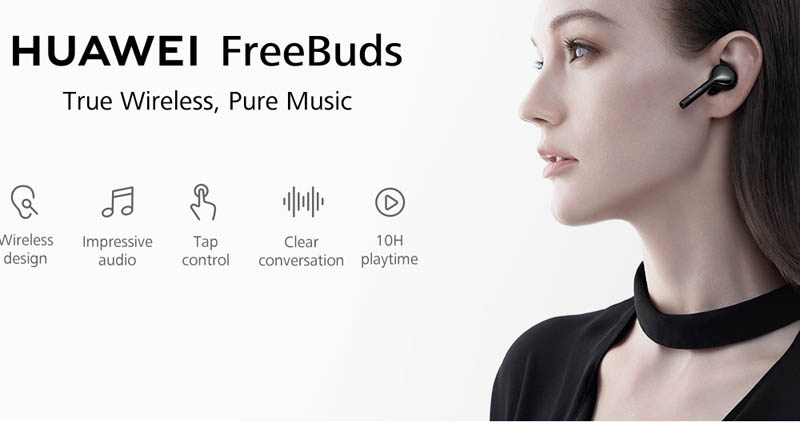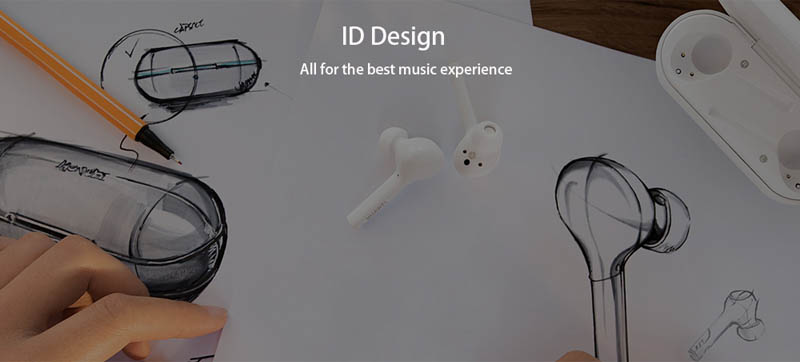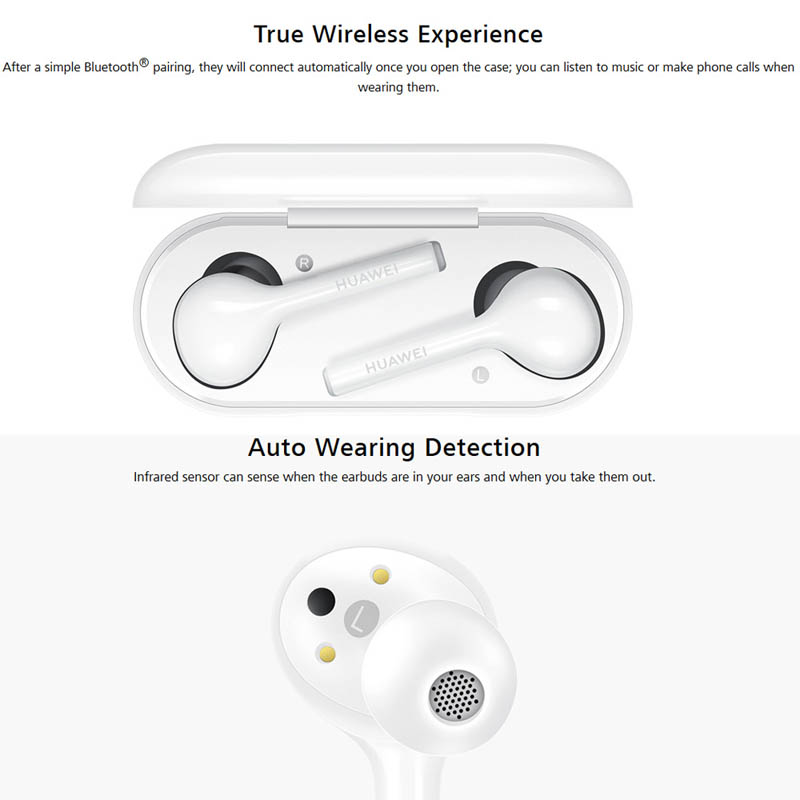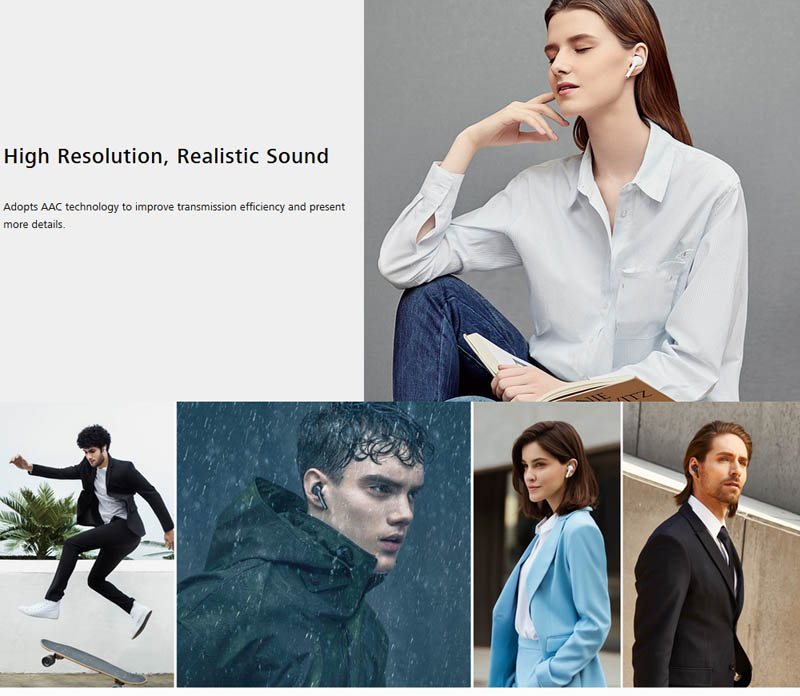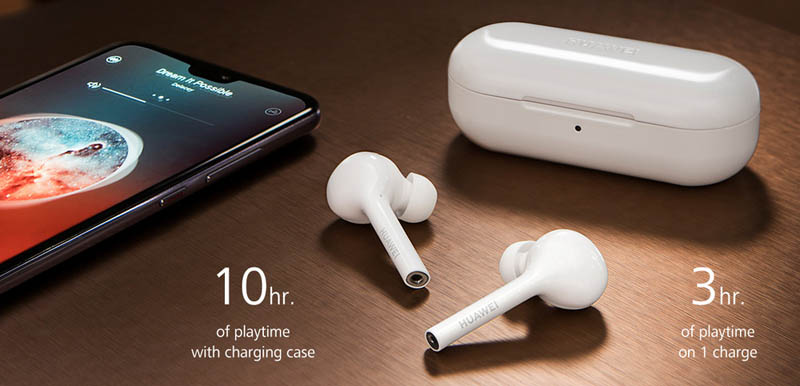 Model

Brand:HUAWEI / HUAWEI Free EarBuds 2 Pro

Color:White/ Black
Bluetooth:V5.0
Bluetooth protocol:A2DP 1.3 ,(HFP)1.6, AVRCP
Frequency range:20 Hz – 20,000 Hz
Charging time:approx. 1 hour
Battery:420mAh, Lithium ion button battery.

TYPE

Wireless Bluetooth eardphones
SPEC

Indicator light :RGB LED tricolour light :
1.Charging status indicate;
2. Charging box/battery life indicator
3.Charging box in low power;
4.Recover factory setings indicate.


Charging port:via Charhing box Pogo Pin
Input:5V—1.1A
Theoretical standby time:about 40 hours
Noise reduction level:ANR White noise > 25 dB, Hoth noise> 25 dB ,Traffic noise > 25dB, Wind noise WNR < 75 dB
Microphone:Double silicon wheat, support talking uplink Noise reduction
Trumpet:1 Experience Balance Armature+ 1 DYNAMIC ( diameter 7mm)
Weight: 45g
Operation Temperature:-10ºC~55 ºC
Charging Temperature:0ºC~45 ºC
storage temperature: -40ºC~70 ºC
yeelight blue Technology: through SRRC, CE,FCC,BQB

In The Box

1 x HUAWEI FreeBuds 2 Pro
1 x Charging box
1 x Type C charging cable
1 x Set of ear support & earplugs (L/M/S/XS)-M is put on the headset
1 x Manual




Customer Reviews
Review by

Simone

Ottimo prodotto freebuds 2 pro Auricolari Wireless abbinato al mio Huawei Mate 20 Pro smartphone non danno nessun problema, Complimenti !! (Posted on 4/14/19)

Review by

Luigi L

arrivato oggi !!! puntualissimo con Nextbuying !!! Le huawei freebuds 2 pro cuffie sono perfette e funzionano alla perfezione abbinate al mio Huawei mate 20 smartphone... video nell'ascolto non sono ritardati e la comunicazione è pulita e l'interlocutore sente benissimo!!! Ottimo prezzo. (Posted on 4/14/19)

Review by

Andrea b

If you want to get excellent true wireless earphones, the Huawei FreeBuds 2 Pro is good choice!! fast shipping Italy ... recommend!! (Posted on 4/12/19)

Review by

Kaylie LEE

Fast Express shipping from DHL only 4 work day !!!! the FreeBuds 2 pro wireless earphones.. They work with every device that is Bluetooth compatible, Battery Life is Amazing
The Charging case will last you days, Music is in almost every aspect of our lives. So, having a way to listen to music that makes it convenient, cancels outside noises !! (Posted on 2/26/19)
Write Your Own Review
Customer Reviews
Review by

Simone

Ottimo prodotto freebuds 2 pro Auricolari Wireless abbinato al mio Huawei Mate 20 Pro smartphone non danno nessun problema, Complimenti !! (Posted on 4/14/19)

Review by

Luigi L

arrivato oggi !!! puntualissimo con Nextbuying !!! Le huawei freebuds 2 pro cuffie sono perfette e funzionano alla perfezione abbinate al mio Huawei mate 20 smartphone... video nell'ascolto non sono ritardati e la comunicazione è pulita e l'interlocutore sente benissimo!!! Ottimo prezzo. (Posted on 4/14/19)

Review by

Andrea b

If you want to get excellent true wireless earphones, the Huawei FreeBuds 2 Pro is good choice!! fast shipping Italy ... recommend!! (Posted on 4/12/19)

Review by

Kaylie LEE

Fast Express shipping from DHL only 4 work day !!!! the FreeBuds 2 pro wireless earphones.. They work with every device that is Bluetooth compatible, Battery Life is Amazing
The Charging case will last you days, Music is in almost every aspect of our lives. So, having a way to listen to music that makes it convenient, cancels outside noises !! (Posted on 2/26/19)
Write Your Own Review