Return to Previous Page
Details
Using the Coupon Code " next5off " Price Save $5 Dollars
Features
Lenovo K3 Note Smartphones built MediaTek MTK6752, Cortex A53 octa-core, up to 1.7GHz, fast and furious; 64bit, double performance than the 32bit processors. with multi-tasking and built 2GB RAM + 16GB ROM.
Android 5.0 Lollipop system mobile phone is a brilliantly constructed piece of hardware merged with the android 5.0 to provide end users with amazing modern day functionality on the go for their daily communication and entertainment needs.
5.5" IPS full lamination FHD Screen 1920 x 1080 Resolution ensures that you have a panoramic and clear view about the whole screen no matter with texts,pictures,games or videos.
Dual Cameras- 13.0MP back camera with dual LED flashlights and auto focus, f2.0, 5.0MP front camera.
Dual SIM card dual standby - micro-sim card
4G: FDD-LTE: B1/3/7 ( 1800/2100/2600MHz )
3G: WCDMA: (850/900/1900/2100)
2G: GSM 850/900/1800/1900MHz
Fast WiFi - 802.11 b/g/n max to 300MB wireless networks and support 4G Connection network Anywhere.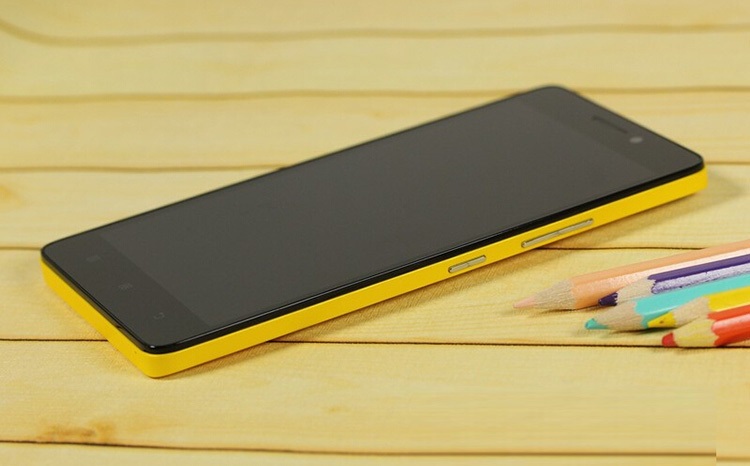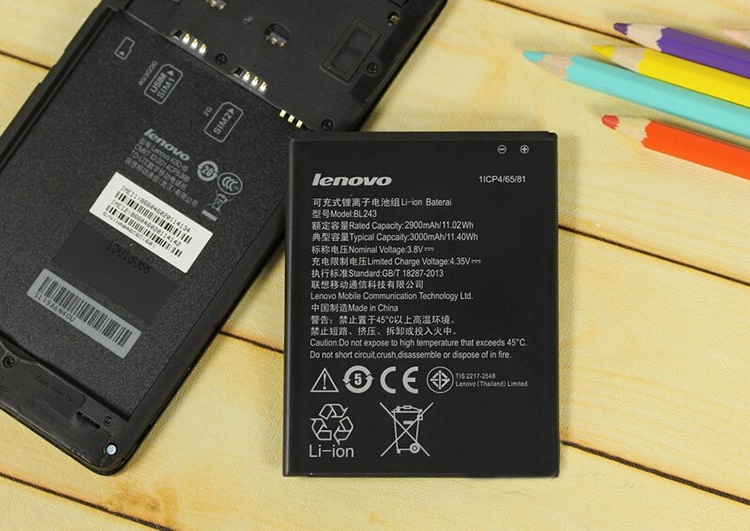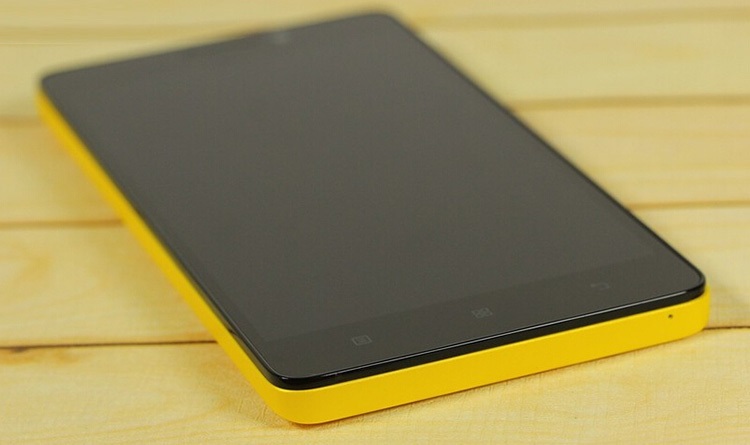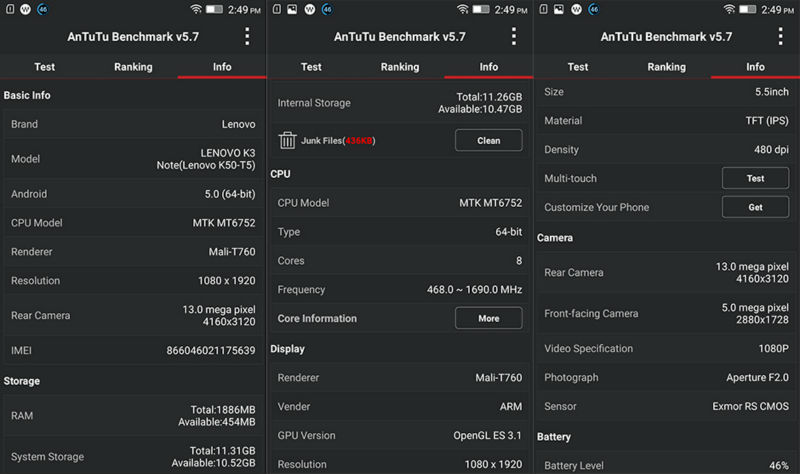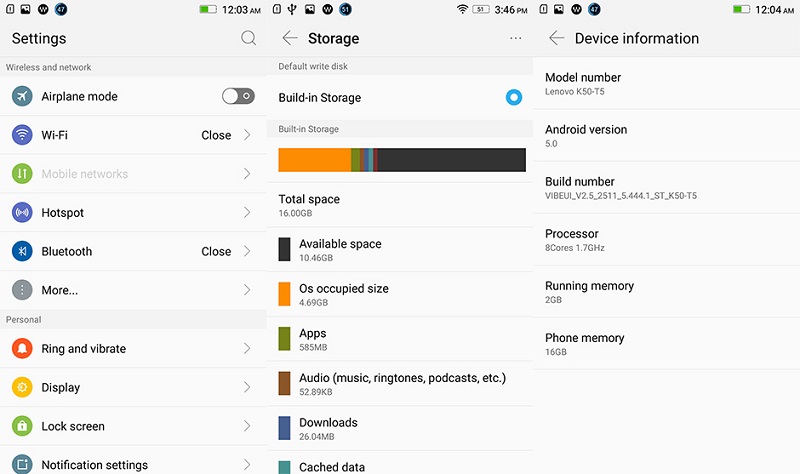 Specifications
Reference
Lenovo K3 Note
Android OS
Android 5.0 Lollipop
Architecture
MTK6752
Core
Octa Core
CPU
1.7 GHz
Service Provide
Unlocked
RAM
2 GB
Internal Storage
16 GB
Screen Size
5.5 inch
Touch Screen
IPS screen, capacitive touch screen
Screen Resolution
1920 x 1080 pixels
Screen Color
16000K Colors
WebCam
front camera 5.0MP back camera 13.0MP

FM

Radio

Yes, earphone needed
Color
Yellow , White
4G LTE
YES
GPS
YES built in also support A-GPS
Bluetooth
YES built in v4.0
Card Reader
Micro SD up to 32GB extended



Language

English, Afrikaans, Bahasa Indonesia, Bahasa Melayu, Bosanski, Catala, Cestina, Dnask, Deutsch, Eesti, Espanol, French, Filipino, FYROM, Hrvatski, IsiZulu, Italiano, Khmer, Kiswahili, Latviesu, Lietuviu, Magyar, Nederlands, Norsk, Polish, Portuguese, Romana, Slovencina, Slovenscina, Srpski, Suomi, Svenska, Vietnamese, Turkish, Urdu, Greek, Bulgarian, Russian, Ukrainian, Hebrew, Arabic, Persian, Hindi, Bengali, Thai, Korean, Japanese, Simplified/Traditional Chinese

Default

Applications
3G, 4G LTE, WIFI, Phone, Gallery, Video Record and player, Sound Recorder, File Explorer, Browser, FM Radio, MMS, Bluetooth, Calculator, Alarm, Calendar, MP3 / MP4player, Support memory card, Dual SIM Dual Stand-by, Dual Camera , Play Store, flashlight, etc


Dimensions / Weight

152.6 x 76 x 7.99mm / 146g

WiFi

Yes 802.11b/g/n


Video

3GP/MPEG4




Music

MP3/WAV/AMR/AWB

Ebook
TXT/CHM/DOC/HTML


Battery
Up to Theoretically 2-3 days



Port

2 x SIM Card slot; 1 x Micro USB port; 1 x TF card slot, 1 x 3.5mm Earphone port


What in the Box
1 x Mobile Phone, 1 x Charger, 1 x USB cable, 1 x User manual 1 x 3000

mAh

Battery
Customer Reviews
Review by

vijju

Yes Lenovo K3 has taken market by storm when xioami was rulling i have seen the piece quite good only drawback is that when i play games it gets struck sometimes other than that every thing is cool i recently ordered (Posted on 12/16/15)

Review by

Smithf31

Whats Taking place i am new to this, I stumbled upon this I have found It positively helpful and it has aided me out loads. I hope to contribute &amp assist other users like its helped me. Great job! (Posted on 8/18/15)

Review by

Jiten

Beautifully done.. (Posted on 8/15/15)

Review by

Albert M

Muy buen móvil Lenovo k3 note. Todo genial. (Posted on 7/16/15)

Review by

suresh

Excelent phone (Posted on 7/2/15)

Review by

Jorge de León

Ya me llego mi Lenovo k3 note. Primera impresion fantastico!!!. Al ser bastante fino, se me hace comodo en la mano, tengo mano pequeña pero le manejo bien.
La bateria si que va un poco justa, a ver que tal tras unas cuantas cargas.
La pantalla con sol es un poco justa de brillo, pero se ve bastante bien.
En rasgos generales, muy contento con la compra. (Posted on 6/26/15)

Review by

David Pan

Original Lenovo phone and fast shipping. great camera and processor CPU, As always, great service. Thanks for everything. (Posted on 6/4/15)

Review by

Juan Gomez

envoie rapide téléphone de qualité...... tres bien (Posted on 6/4/15)

Review by

Luis Guerra

Producto Lenovo K3 NOTE ( Lenovo k50-t5 ) en perfecto estado ( apoyo español idioma, Google Play ), envio a España en 5 dias habiles (pagandolo evidentemente) 100% recomendable. (Posted on 5/26/15)

Review by

Allen Ed

Excellent online store nextbuying.com. Very good communication. Shipped a day earlier than promised and phone arrived to Australia 2 days after leaving (Exprees DHL shipping ), amazingly fast. smartphone works great with 4G FDD LTE and wcdma. I bought this to replace an iphone 4s and it is much more usefull because it has a SD card to put stuff on and you don't need to use iTunes. Plug and play with Linux, just copy and paste your stuff straight into the phone or SD card. Phone seems very fast and snappy to use and the big screen 5.5 FHD is great. The only downside I can think of so far is that there are quite a few Chinese apps that are built in to the system ROM that cannot be removed ( Root it solve this problem ). Battery life is sort of OK for a phone with such a large screen, I get a day with heavy use. Thx !! (Posted on 5/26/15)

Review by

David Panchi

Thanks, very good as always !! premium quality terminal ! Genial como siempre, gracias Nextbuying.com !!!!! el terminal muy recomendado, pesa muy poco, buena calidad de pantalla, bateria, 8 cores , 2GB RAM, android 5.0 vibe ui , lengua española ... (Posted on 5/19/15)

Review by

Dan Mathews

I am very satisfied with the Lenovo k3 note smartphones. Excellent android 5.0 system with Google play and I ordered the phone on a Thursday and had the phone delivered to me on Monday afternoon by DHL in Australia . I would highly recommend Nextbuying.com (Posted on 5/19/15)

Review by

Peter Tumbus

The best Lenovo lemo k3 note smartphone for the price. all the 3G /4G LTE bands in Australia. android 5.0 with Google play installed ... DHL shipping to AU only 3 day, after sent, both took me less then 48 hours to receive them. Nice quality products, fast shipping, recommended Nextbuying !!!! (Posted on 5/13/15)

Review by

jose antonio cruz

Buen producto Lenovo k3 note Apoyo perfecto de la lengua española, de calidad, al que ya compré otros cacharritos. Envío rápido previo pago de 35 euros de aduana. (Posted on 5/13/15)

Review by

Pete H

Very Nice Lenovo Smartphone K3 Note with Google Play, like the yellow color!! .. DHL shipping take only 3 days come to Australia, highly recommended Nextbuying.com !! (Posted on 5/2/15)

Review by

Christian Lopez

Excelente .. envío rápido , Lenovo K3 NOTE Android 5.0 Lollipop , no Chino Apps .. muy satisfecho, recomiendo ampliamente al Nextbuying.com (Posted on 4/27/15)

Review by

David P.

Buen producto Lenovo k3 note ( español, Google Play Store ),aunque me hubiese gustado que viniese todo instalado en español. confianza. Dé lo mejor de Nextbuying !! (Posted on 4/27/15)

Review by

Luis Fernando r

Todo muy bien y en buenas condiciones Lenovo k3 note ( lengua española, Google Play, No aplicación chino) , Excelente, muy satisfecho, recomiendo ampliamente al Nextbuying... gracias (Posted on 4/25/15)

Review by

Frank Soto

Thank you !! very fast delivery DHL to Australia 4 day!!! BEST Lenovo Phones ( Android 5.0 with Google Play ) like the music player app ... Recommend !!! (Posted on 4/22/15)

Review by

Carlos Már

Perfecto, todo segun la descripcion Lenovo k3 note android 5.0 Lollipop perfecto apoyo lengua española con Google Play y en perfecto estado el envio. (Posted on 4/22/15)

Review by

Erick López

Super rapido y muy atentos, fiable. Todo OK. muy competentes (Posted on 4/21/15)

Review by

Víctor Fernández

100% Fiable. Llego super rápido y muy bien embalado. Perfecto nuevo lenovo K3 note lemo ... (Posted on 4/21/15)

Review by

Jason Pasch

Excellent Lenovo phone. DHL shipping to United Kingdom 4 Day .... Excellent communication, I will buy from Nextbuying again . No problem Thank you for the perfect service you offer. (Posted on 4/18/15)

Review by

Ivan D.

Envio super rapido, vendedor y producto lenovo k3 note smartphone muy competentes !! (Posted on 4/11/15)

Review by

Alexander J

Thank you. Very good safety of package and good lenovo lemon k3 note phone !! (Posted on 4/11/15)
Write Your Own Review
Customer Reviews
Review by

vijju

Yes Lenovo K3 has taken market by storm when xioami was rulling i have seen the piece quite good only drawback is that when i play games it gets struck sometimes other than that every thing is cool i recently ordered (Posted on 12/16/15)

Review by

Smithf31

Whats Taking place i am new to this, I stumbled upon this I have found It positively helpful and it has aided me out loads. I hope to contribute &amp assist other users like its helped me. Great job! (Posted on 8/18/15)

Review by

Jiten

Beautifully done.. (Posted on 8/15/15)

Review by

Albert M

Muy buen móvil Lenovo k3 note. Todo genial. (Posted on 7/16/15)

Review by

suresh

Excelent phone (Posted on 7/2/15)

Review by

Jorge de León

Ya me llego mi Lenovo k3 note. Primera impresion fantastico!!!. Al ser bastante fino, se me hace comodo en la mano, tengo mano pequeña pero le manejo bien.
La bateria si que va un poco justa, a ver que tal tras unas cuantas cargas.
La pantalla con sol es un poco justa de brillo, pero se ve bastante bien.
En rasgos generales, muy contento con la compra. (Posted on 6/26/15)

Review by

David Pan

Original Lenovo phone and fast shipping. great camera and processor CPU, As always, great service. Thanks for everything. (Posted on 6/4/15)

Review by

Juan Gomez

envoie rapide téléphone de qualité...... tres bien (Posted on 6/4/15)

Review by

Luis Guerra

Producto Lenovo K3 NOTE ( Lenovo k50-t5 ) en perfecto estado ( apoyo español idioma, Google Play ), envio a España en 5 dias habiles (pagandolo evidentemente) 100% recomendable. (Posted on 5/26/15)

Review by

Allen Ed

Excellent online store nextbuying.com. Very good communication. Shipped a day earlier than promised and phone arrived to Australia 2 days after leaving (Exprees DHL shipping ), amazingly fast. smartphone works great with 4G FDD LTE and wcdma. I bought this to replace an iphone 4s and it is much more usefull because it has a SD card to put stuff on and you don't need to use iTunes. Plug and play with Linux, just copy and paste your stuff straight into the phone or SD card. Phone seems very fast and snappy to use and the big screen 5.5 FHD is great. The only downside I can think of so far is that there are quite a few Chinese apps that are built in to the system ROM that cannot be removed ( Root it solve this problem ). Battery life is sort of OK for a phone with such a large screen, I get a day with heavy use. Thx !! (Posted on 5/26/15)

Review by

David Panchi

Thanks, very good as always !! premium quality terminal ! Genial como siempre, gracias Nextbuying.com !!!!! el terminal muy recomendado, pesa muy poco, buena calidad de pantalla, bateria, 8 cores , 2GB RAM, android 5.0 vibe ui , lengua española ... (Posted on 5/19/15)

Review by

Dan Mathews

I am very satisfied with the Lenovo k3 note smartphones. Excellent android 5.0 system with Google play and I ordered the phone on a Thursday and had the phone delivered to me on Monday afternoon by DHL in Australia . I would highly recommend Nextbuying.com (Posted on 5/19/15)

Review by

Peter Tumbus

The best Lenovo lemo k3 note smartphone for the price. all the 3G /4G LTE bands in Australia. android 5.0 with Google play installed ... DHL shipping to AU only 3 day, after sent, both took me less then 48 hours to receive them. Nice quality products, fast shipping, recommended Nextbuying !!!! (Posted on 5/13/15)

Review by

jose antonio cruz

Buen producto Lenovo k3 note Apoyo perfecto de la lengua española, de calidad, al que ya compré otros cacharritos. Envío rápido previo pago de 35 euros de aduana. (Posted on 5/13/15)

Review by

Pete H

Very Nice Lenovo Smartphone K3 Note with Google Play, like the yellow color!! .. DHL shipping take only 3 days come to Australia, highly recommended Nextbuying.com !! (Posted on 5/2/15)

Review by

Christian Lopez

Excelente .. envío rápido , Lenovo K3 NOTE Android 5.0 Lollipop , no Chino Apps .. muy satisfecho, recomiendo ampliamente al Nextbuying.com (Posted on 4/27/15)

Review by

David P.

Buen producto Lenovo k3 note ( español, Google Play Store ),aunque me hubiese gustado que viniese todo instalado en español. confianza. Dé lo mejor de Nextbuying !! (Posted on 4/27/15)

Review by

Luis Fernando r

Todo muy bien y en buenas condiciones Lenovo k3 note ( lengua española, Google Play, No aplicación chino) , Excelente, muy satisfecho, recomiendo ampliamente al Nextbuying... gracias (Posted on 4/25/15)

Review by

Frank Soto

Thank you !! very fast delivery DHL to Australia 4 day!!! BEST Lenovo Phones ( Android 5.0 with Google Play ) like the music player app ... Recommend !!! (Posted on 4/22/15)

Review by

Carlos Már

Perfecto, todo segun la descripcion Lenovo k3 note android 5.0 Lollipop perfecto apoyo lengua española con Google Play y en perfecto estado el envio. (Posted on 4/22/15)

Review by

Erick López

Super rapido y muy atentos, fiable. Todo OK. muy competentes (Posted on 4/21/15)

Review by

Víctor Fernández

100% Fiable. Llego super rápido y muy bien embalado. Perfecto nuevo lenovo K3 note lemo ... (Posted on 4/21/15)

Review by

Jason Pasch

Excellent Lenovo phone. DHL shipping to United Kingdom 4 Day .... Excellent communication, I will buy from Nextbuying again . No problem Thank you for the perfect service you offer. (Posted on 4/18/15)

Review by

Ivan D.

Envio super rapido, vendedor y producto lenovo k3 note smartphone muy competentes !! (Posted on 4/11/15)

Review by

Alexander J

Thank you. Very good safety of package and good lenovo lemon k3 note phone !! (Posted on 4/11/15)
Write Your Own Review