Return to Previous Page
Details
OnePlus One Coupon Codes OFF 5$ : next5off
OnePlus One BAMBOO 64GB , Oneplus One JBL Special Edition In stock ..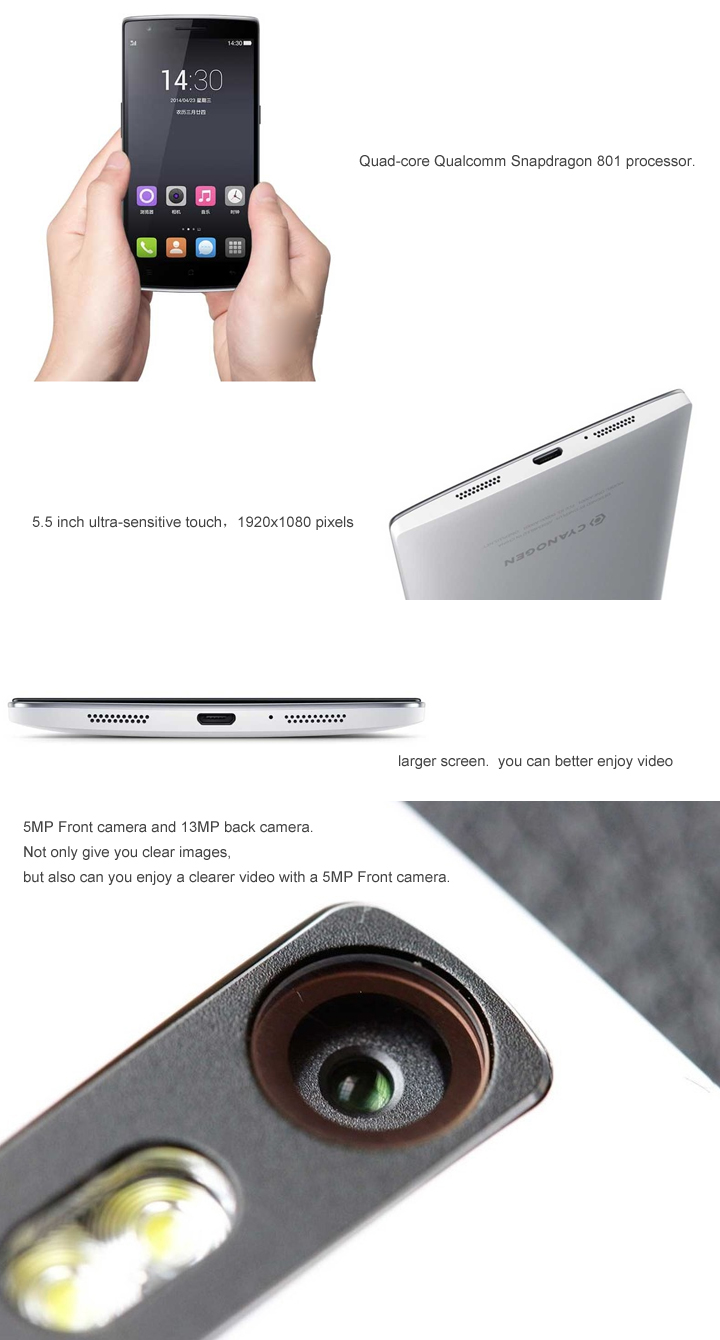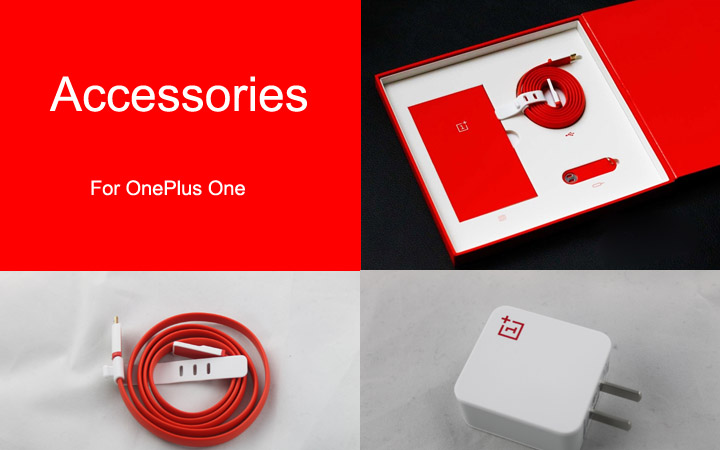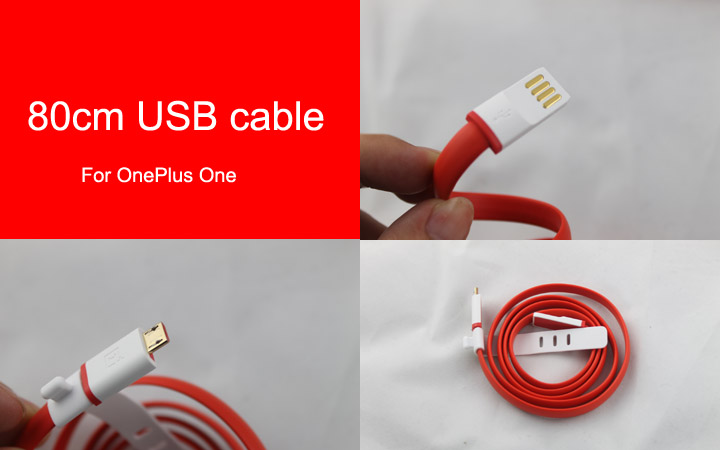 Highlights Specifications
> Color Silk White / Sandstone Black
> Dimensions 152.9 x 75.9 x 8.9 mm
> Weight 5.71 ounces (162 g)
> Operating System CyanogenMod 11S based on Android 4.4
> CPU Qualcomm© Snapdragon™ 801 processor with 2.5GHz Quad-core CPUs
> GPU Adreno 330, 578MHz
> RAM 3 GB LP-DDR3, 1866MHz
> Storage 16/64 GB eMMC 5.0, available capacity varies
> Sensors Accelerometer, Gyroscope, Proximity and Ambient Light
> Battery Embedded rechargeable 3100 mAh LiPo battery
Connectivity
> GSM: 850/900/1800/1900MHz
> WCDMA: Bands: 850/900/1900/2100MHz
> LTE: Bands: 1800/2100/2600MHz
> Wi-Fi Dual-band Wi-Fi (2.4G/5G) 802.11 b/g/n/ac
> Bluetooth Bluetooth 4.0
> NFC 65T (software card emulation, payment methods and multi-tag support)
> Positioning Internal GPS antenna + GLONASS
> Digital Compass
DISPLAY
> Size 5.5 inch JDI
> Resolution 1080p Full HD (1920 x 1080 pixels), 401 PPI
> Type LTPS IPS with TOL
> Protection Corning© Gorilla© Glass 3
MULTIMEDIA
> Audio supported
> formats Playback: MP3, AAC, AMR, OGG, M4A, MID, WMA, FLAC, APE, AAC, WAV
> Recording: AAC, M4A
> Video supported
> Formats Playback: MP4, H.263, H.264, RMVB, FLV720P
> Recording: MP4
> Image supported
> Formats Playback: JPEG, PNG, GIF, BMP
> Output: JPEG, RAW
CAMERAS
> Sensor 13 Megapixel - Sony Exmor IMX 214
> Lenses 6 lenses to avoid distortion and color aberration
> Flash Dual-LED
> Aperture f/2.0
> Front Camera 5 Megapixel - Distortion free
> Video 4K resolution video with stereo recording Slow Motion: 720p video at 120fps
ACCESSORIES: ONEPLUS ONE SCREEN PROTECTOR + ONEPLUS ONE FLIP COVER. NOTE: Other Color Comments to us
The OnePlus flip cover is specifically designed for the One, so you can rest assured that your One will be perfectly shielded against everything that a phone can be subjected to – at least almost.
The exterior consists of a shock absorbent plastic layered with resistant Bicast leather, while the interior is made of soft velvet for the backside of the One to have a comfortable place to rest on. The front side will flip up effortlessly, and will fall back carefully on your One with a discrete "tap". The attention to detail is once again manifested through the OnePlus logo carved on the bottom-right side of the front.
Automatic Unlock and Other Features Your One will automatically unlock* as soon as you flip open the front side, for a smoother and better user experience. The volume button will be reached as easily through the flip cover as without. The same goes for the lock button. As the backside has an opening for the camera and the flash, and the front side will leave the loudspeakers unblocked, you can take beautiful images and talk to your friends while not worrying about your One.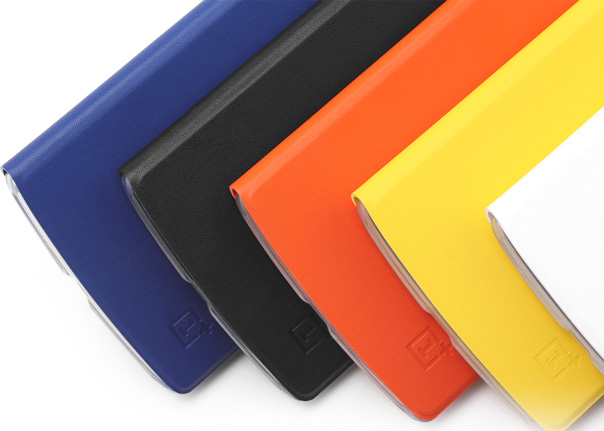 Q/A
Q : I was really looking forward to buying the oneplus one phone, however I came across a few threads which indicate that 4G/LTE connectivity may be limited in Europe.
A : The LTE standard covers a range of many different bands, each of which is designated by both a frequency and a band number. In North America, 700, 750, 800, 850, 1900, 1700/2100 (AWS) and 2600 MHz (Rogers Communications, Bell Canada) are used (bands 4, 7, 12, 13, 17, 25, 26, 41); 2500 MHz in South America; 800, 900, 1800, 2600 MHz in Europe(bands 3, 7, 20);1800 and 2600 MHz in Asia (bands 1, 3, 5, 7, 8, 11, 13, 40);and 1800 MHz and 2300 MHz in Australiaand New Zealand (bands 3, 40).As a result, phones from one country may not work in other countries. Users will need a multi-band capable phone for roaming internationally.
--
Q : What is cyanogenmod ? supported my languages ?
A : CyanogenMod is an open source operating system for smartphones, based on the Android. cheak the google+ link check oneplus one cm11s support languages : https://plus.google.com/+PhillipReece/posts/CjJrToJBHFt
--
Q : Oneplus One Support Spanish languages ?
A : CyanogenMod 11S is an open source operating system for smartphones, based on the Android. Support Spanish languages.
--
Q : I live in the Europe Spain, Oneplus one 4G LTE support ??
A : The OnePlus One supports the following bands: LTE Bands: 1/3/4/7/17/38/40 work in Europe and Spain , or Please contact your carrier to ask whether or not your current plan supports these bands.
--
Q : I live in the United States Oneplus one 4G LTE support ??
A : The OnePlus One will rock LTE bands 1/3/4/7/17/38/39/40/41. in the US, that means T-Mobile and AT&T support.
Verify Consumer Reviews
Oneplus One Unboxing Reviews - REVIEWS BY Verify Buyer User Erik 18/07/2014
http://blog.nextbuying.com/oneplus-one-unboxing-reviews.html
Customer Reviews
Review by

Nextbuying.com

@Marco Antonio Oneplus One support band.

> GSM: 850/900/1800/1900MHz
> WCDMA: Bands: 850/900/1900/2100MHz
> LTE: Bands: 1800/2100/2600MHz (Posted on 12/14/14)

Review by

Marco Antonio

Se puede usar en México ? (Posted on 12/13/14)

Review by

Dave Zwalve

All perfect and very fast shipping to Netherlands ( OPO 64GB Black ) running CM11S! Without problems. You have our best recommendations !! (Posted on 9/21/14)

Review by

Thomas

I've owned the device for 4 weeks now love it. and it's by far the best device I've used. thanks !!! (Posted on 8/29/14)

Review by

Eduardo

Hello Guys,

Can you send the phone to Mexico City?
can i use my micro sim Iusacell ?

Best Regards (Posted on 8/26/14)

Review by

José Costa

ha recibido OPO 64GB Black !!! Gracias , Recomendado !! (Posted on 8/20/14)

Review by

Smith

The 2014 Flagship Killer The OnePlus One :) got the 16gb white, like CM11S.. thanks you ... (Posted on 8/16/14)

Review by

José Luis A

Gracias Nextbuying.com :D Sandstone Black OPO 64gb, La cámara es increíble. Eso es todo. (Posted on 8/16/14)

Review by

Stephen

Excellent! Get OnePlus One TODAY :D THANKS NEXTBUYING!! best battery life! best screen! best CM11S! (Posted on 7/28/14)

Review by

jason

Got mine yesterday. :) LIKE OPO, LIKE CM11S, (Posted on 7/28/14)

Review by

Aurimas

I have N5 and I just ordered the OPO ON Nextbuying.com, so I can't wait until I get it. I will probably sell the N5 as the battery life is horrible. Mine also is out for delivery today !!!! (Posted on 7/28/14)

Review by

martin

Excelente !!! (Posted on 7/25/14)

Review by

Nextbuying.com

@José Cordero : processor time 1-2 work day and DHL shipping to Finland 3-5 work day !! YES running official CYANOGENMOD 11S (Posted on 7/23/14)

Review by

Nextbuying.com

@Simone Yes, the OPO phone running Oficial Oneplus CM11S system ! (Posted on 7/23/14)

Review by

José Cordero

Esta es la última CM11S? cuánto tiempo de envío a España ? (Posted on 7/23/14)

Review by

Simone

Hello , Nextbuying.com, it is running official CYANOGENMOD 11S ??? THANKS ! (Posted on 7/22/14)

Review by

Nextbuying.com

@Daniel : Thank you order from Nextbuying.com, the phone processor time 1-2 work day and DHL shipping to Finland 3-5 work day !! (Posted on 7/22/14)

Review by

Daniel

Hello, i live in Finland , what is the delivery time ? (Posted on 7/21/14)

Review by

Pual

Mine shipped today my Oneplus one smartphone :D Thanks !! (Posted on 7/21/14)

Review by

Jonathan

Et bien voilà, Le remplaçant de mon Galaxy S3 est le OneplusOne 64gb que je viens de recevoir

Merci à Nextbuying.com pour son sérieux ☺
PS : j'ai du boulot pour ce weekend de 4 jours (Posted on 7/21/14)

Review by

Dom

de mon Oneplus One Smartphone arrivé en début de semaine !! (Posted on 7/21/14)

Review by

Moses

Just got mine yesterday. Its a great phone and feels fantastic in the hand. I feel the speaker is not too bad actually. still I feel the speaker volume is good and doesn't distort. Nice job Oneplus and Nextbuying !  !!! (Posted on 7/20/14)

Review by

Ardi

Just got my One today... Loving it so far. Thank you Nextbuying.com !!! (Posted on 7/19/14)

Review by

George .M

Just got mine in the phone an hour ago ( DHL people call, to my home ). Thanks Nextbuying.com !!!! The phone is much better in person. Slimmer than I thought and the texture feels great. I have an GS5. This feels and much better than the GS5. Setting up the phone now...fun fun... (Posted on 7/19/14)

Review by

Nextbuying.com

@Sébastien : Thank you order from Nextbuying.com, the phone processor time 1-2 work day and DHL shipping 3-5 work day !! (Posted on 7/19/14)

Review by

Sébastien

Hello!
Just ordered my phone, how long does shipping to France take? (Posted on 7/19/14)

Review by

Williams

I'm ready to buy. Right now! ! (Posted on 7/18/14)

Review by

Rick L

I already have mine!  (Posted on 7/18/14)

Review by

Michael

THANK YOU !!! Nextbuying, today the get the Oneplus one !!! Phone has terrible signal strength on LTE on T-Mobile network.  (Posted on 7/18/14)

Review by

Troy Kee

GREAT PHONE !!!!! (Posted on 7/18/14)

Review by

Tim Witkamp

Received it yesterday !! It was a flagship killer :) So far I like the OPO much better. These guys know how to make a good product. Great Phone !! (Posted on 7/18/14)

Review by

Mikell

COOL, Nextbuying.com !!!! I just bought and received the phone, silk white color, and it is great smartphones, no flaws at all. THANK YOU !! (Posted on 7/17/14)

Review by

Charles

THANK YOU Nextbuying !!! today i have get it..... I love my OPO. i don't have a invite , so i get it from Nextbuying.com. Definitely is beyond my expectations. Very good build quality and I love the CM software. Have faith people and give them a chance. You wont regret it. (Posted on 7/15/14)

Review by

Robert J

Fantastic device... Im very happy with my OPO! (Posted on 7/14/14)

Review by

Jeffrey

THANK YOU, NEXTBUYING !!! Got mine yesterday. First impressions: The Design is pure beauty. The sandstone back is unique. Hardware is spot-on: even the GPS is superfast and super-correct. Battery life is more than enough for a day. Very satisfied!!! (Posted on 7/14/14)

Review by

Paul W

I finally got mine, less than one day in. THANK YOU Nextbuying !!!!!!

Love the phone, one small annoying thing. At minimum brightness, the actual brightness flickers sometimes.

No yellow tint issue, look forward to getting the white point adjustment. (Posted on 7/13/14)
Write Your Own Review
Customer Reviews
Review by

Nextbuying.com

@Marco Antonio Oneplus One support band.

> GSM: 850/900/1800/1900MHz
> WCDMA: Bands: 850/900/1900/2100MHz
> LTE: Bands: 1800/2100/2600MHz (Posted on 12/14/14)

Review by

Marco Antonio

Se puede usar en México ? (Posted on 12/13/14)

Review by

Dave Zwalve

All perfect and very fast shipping to Netherlands ( OPO 64GB Black ) running CM11S! Without problems. You have our best recommendations !! (Posted on 9/21/14)

Review by

Thomas

I've owned the device for 4 weeks now love it. and it's by far the best device I've used. thanks !!! (Posted on 8/29/14)

Review by

Eduardo

Hello Guys,

Can you send the phone to Mexico City?
can i use my micro sim Iusacell ?

Best Regards (Posted on 8/26/14)

Review by

José Costa

ha recibido OPO 64GB Black !!! Gracias , Recomendado !! (Posted on 8/20/14)

Review by

Smith

The 2014 Flagship Killer The OnePlus One :) got the 16gb white, like CM11S.. thanks you ... (Posted on 8/16/14)

Review by

José Luis A

Gracias Nextbuying.com :D Sandstone Black OPO 64gb, La cámara es increíble. Eso es todo. (Posted on 8/16/14)

Review by

Stephen

Excellent! Get OnePlus One TODAY :D THANKS NEXTBUYING!! best battery life! best screen! best CM11S! (Posted on 7/28/14)

Review by

jason

Got mine yesterday. :) LIKE OPO, LIKE CM11S, (Posted on 7/28/14)

Review by

Aurimas

I have N5 and I just ordered the OPO ON Nextbuying.com, so I can't wait until I get it. I will probably sell the N5 as the battery life is horrible. Mine also is out for delivery today !!!! (Posted on 7/28/14)

Review by

martin

Excelente !!! (Posted on 7/25/14)

Review by

Nextbuying.com

@José Cordero : processor time 1-2 work day and DHL shipping to Finland 3-5 work day !! YES running official CYANOGENMOD 11S (Posted on 7/23/14)

Review by

Nextbuying.com

@Simone Yes, the OPO phone running Oficial Oneplus CM11S system ! (Posted on 7/23/14)

Review by

José Cordero

Esta es la última CM11S? cuánto tiempo de envío a España ? (Posted on 7/23/14)

Review by

Simone

Hello , Nextbuying.com, it is running official CYANOGENMOD 11S ??? THANKS ! (Posted on 7/22/14)

Review by

Nextbuying.com

@Daniel : Thank you order from Nextbuying.com, the phone processor time 1-2 work day and DHL shipping to Finland 3-5 work day !! (Posted on 7/22/14)

Review by

Daniel

Hello, i live in Finland , what is the delivery time ? (Posted on 7/21/14)

Review by

Pual

Mine shipped today my Oneplus one smartphone :D Thanks !! (Posted on 7/21/14)

Review by

Jonathan

Et bien voilà, Le remplaçant de mon Galaxy S3 est le OneplusOne 64gb que je viens de recevoir

Merci à Nextbuying.com pour son sérieux ☺
PS : j'ai du boulot pour ce weekend de 4 jours (Posted on 7/21/14)

Review by

Dom

de mon Oneplus One Smartphone arrivé en début de semaine !! (Posted on 7/21/14)

Review by

Moses

Just got mine yesterday. Its a great phone and feels fantastic in the hand. I feel the speaker is not too bad actually. still I feel the speaker volume is good and doesn't distort. Nice job Oneplus and Nextbuying !  !!! (Posted on 7/20/14)

Review by

Ardi

Just got my One today... Loving it so far. Thank you Nextbuying.com !!! (Posted on 7/19/14)

Review by

George .M

Just got mine in the phone an hour ago ( DHL people call, to my home ). Thanks Nextbuying.com !!!! The phone is much better in person. Slimmer than I thought and the texture feels great. I have an GS5. This feels and much better than the GS5. Setting up the phone now...fun fun... (Posted on 7/19/14)

Review by

Nextbuying.com

@Sébastien : Thank you order from Nextbuying.com, the phone processor time 1-2 work day and DHL shipping 3-5 work day !! (Posted on 7/19/14)

Review by

Sébastien

Hello!
Just ordered my phone, how long does shipping to France take? (Posted on 7/19/14)

Review by

Williams

I'm ready to buy. Right now! ! (Posted on 7/18/14)

Review by

Rick L

I already have mine!  (Posted on 7/18/14)

Review by

Michael

THANK YOU !!! Nextbuying, today the get the Oneplus one !!! Phone has terrible signal strength on LTE on T-Mobile network.  (Posted on 7/18/14)

Review by

Troy Kee

GREAT PHONE !!!!! (Posted on 7/18/14)

Review by

Tim Witkamp

Received it yesterday !! It was a flagship killer :) So far I like the OPO much better. These guys know how to make a good product. Great Phone !! (Posted on 7/18/14)

Review by

Mikell

COOL, Nextbuying.com !!!! I just bought and received the phone, silk white color, and it is great smartphones, no flaws at all. THANK YOU !! (Posted on 7/17/14)

Review by

Charles

THANK YOU Nextbuying !!! today i have get it..... I love my OPO. i don't have a invite , so i get it from Nextbuying.com. Definitely is beyond my expectations. Very good build quality and I love the CM software. Have faith people and give them a chance. You wont regret it. (Posted on 7/15/14)

Review by

Robert J

Fantastic device... Im very happy with my OPO! (Posted on 7/14/14)

Review by

Jeffrey

THANK YOU, NEXTBUYING !!! Got mine yesterday. First impressions: The Design is pure beauty. The sandstone back is unique. Hardware is spot-on: even the GPS is superfast and super-correct. Battery life is more than enough for a day. Very satisfied!!! (Posted on 7/14/14)

Review by

Paul W

I finally got mine, less than one day in. THANK YOU Nextbuying !!!!!!

Love the phone, one small annoying thing. At minimum brightness, the actual brightness flickers sometimes.

No yellow tint issue, look forward to getting the white point adjustment. (Posted on 7/13/14)
Write Your Own Review